A couple weeks ago, the person behind Fishsticks Designs asked for pattern testers for her new pants pattern. Of course I signed up! I was asked to test a size 4T. Which I happily did!
The
S&S Skate Pants
was the pattern, and it's now been released! Wanting to know some more about it? Here goes. I've only done one other pattern review but hey! Everyone's gotta start somewhere right?
I sewed up a size 4T to test the size on my 4yr old S. This are geared more towards boys yes, but I seen some pretty cool looking girl versions as well! Due to S being currently in size 4T and me working on winter/fall clothing for the kids in a size bigger to allow for growing room I sewed these up geared towards Lil D for winter wear as we were testing the pants version (the pattern offers a shorts version also!)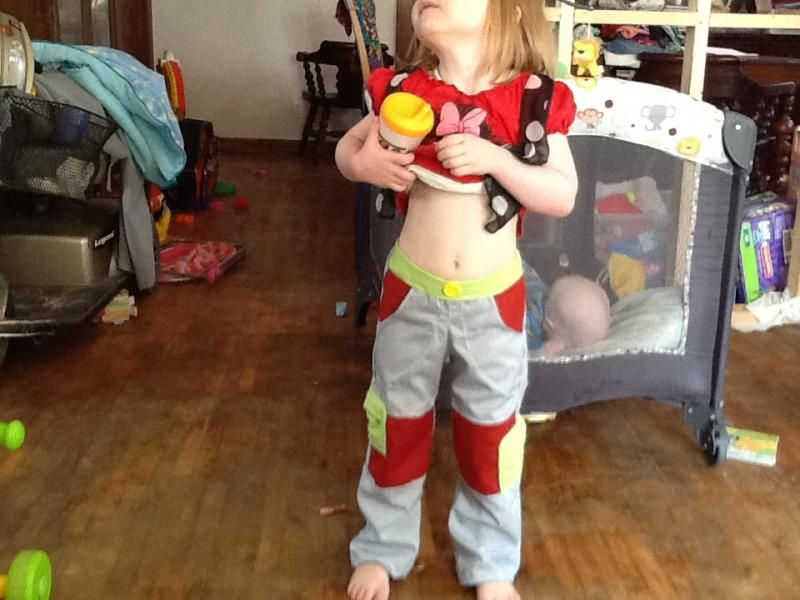 Here's the front shot of a 4T on my little girl. This is the "narrow leg" option. the fit is perfect on her although it does allow room for cloth diapers also! Always a bonus especially in some of the smaller sizes.
Here's the back shot.
Here's the side shot.
There's also a "wide leg" option.
Back shot of the wide leg version. This version offers a wider leg for the thicker thighs. Or just simply a more roomy fit.
Front shot.
Here is a comparison photo of both versions so you can see the difference between wide leg and narrow leg.
You can see between the 2 that I made some of the various options available! I mean look at those colors! the options are endless there! There's also faux button, drawstring, and belt loops. There's so much detail that goes into each piece. All the top stitching just adds so much detail! You can do back pockets and cargo pockets...or leave those pockets off. This was my first time ever using my twin needle that I've had for years. and I just LOVE how it turned out!
Overall I say this is another great pattern from Fishsticks designer! Like what you see? Hop on over and grab the
pattern
! I know I for one will be making quite a few more of these!